We received the following from RefuseFascism-LA: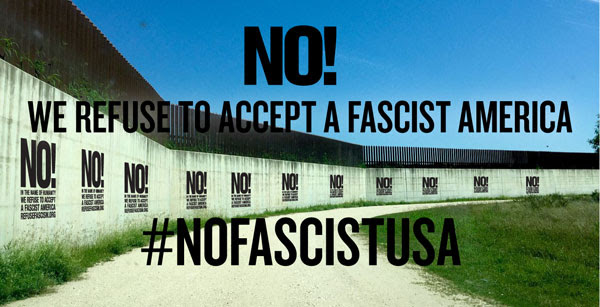 Refuse Fascism-LA Meeting
Wed., February 15 @ 6:30 PM
Church of the Epiphany 2808 Altura Street
Lincoln Heights, L.A. 90031.*

"The Power of NO is a visible rallying cry, by seeing this everywhere, the tens of millions in this country will see a reflection of their deep despair transformed into resistance. The Power of NO has the potential to turn each new outrage from this fascist Trump-Pence Regime into broader and more resolute resistance; a RESISTANCE with the power of millions taking to the streets and refusing to leave until this regime steps down."
At this week's meeting we will continue to develop work in our break-out groups - outreach, speakers bureau, and fundraising - to spread the understanding of fascism, what it is, why Trump-Pence are fascist and must be not only resisted but driven from power. This is urgent, for the sake of humanity -- join us!
Below are events this week to unite with and bring the NO! into. Come by the temporary office at 2716 S. Vermont Ave., No. 8, LA 90007 if you need posters or stickers.
Wed., Feb. 15 @ 5 PM: Protest Trump's Meeting With Netanyahu!
Wilshire Federal Building, 11000 Wilshire Blvd., West LA, 90024.
#NoBanNoWall, #Jerusalem4All! #FreePalestine.
Fri., Feb. 17, 9 AM-5 PM: National General Strike.
Gather at Pershing Square 532 S. Olive St., 90013.
No work, no school, no unnecessary shopping.
Sat., Feb. 18 @ 11 AM: Free the People Immigration March. Pershing Square, 532 S. Olive St., 90013.
Sun., Feb. 19, 2-4 PM: United for America Rally. Islamic Center of Southern California, 434 S. Vermont Avenue, LA 90024
From the flyer: "We're shutting down Vermont Ave."
*

Directions: To get to the Church of the Epiphany for the meeting, go to North Broadway (North of the 5 Freeway), turn left on Griffin, and then left on Altura.
Donate
generously to RefuseFascismLA
HERE
to accelerate the ouster of the Trump/Pence regime.
Contact

the SoCal chapter at 323.946.1742
or SoCal@refusefascism.org
to become an organizer.
Front cover of the 2/8/17 L.A. Weekly - LAX